MultiPad™: Tablet Sync and Charge Solutions
From transporting iPads between departments, around a school, office, or workplace to outdoor events – MultiPad Cases will stand up to anything you can throw at it. MultiPad Transport Cases will ensure your equipment stays well protected and secure.
Charging Cases
A fantastic case for schools, hospitals and much much more!
Why Choose Us?
We have been providing transit and storage solutions for a vast range of IT requirements in various sectors for over 30 years. Please take a look at our products and let us know if you need any more information. Our range includes transportation cases, charging cases, USB charge and sync cases, trollies and desktop units. We are constantly striving to develop our range of products, our product development is driven by customer feedback and we always ensure that our products meet the exacting requirements of our customers.
MultiPad™
If you are struggling to find enough mains sockets for your IT devices or you are wasting valuable time updating your devices individually multiPad™ has the answer. Based on our patented flagship product, the EXOcase, our products are designed and manufactured in the UK and are specifically aimed at providing cost effective, secure and effortless transport of your education IT devices. Originally conceived for military and offshore applications, the EXOcase has been rigorously tested to DEF-STAN-81-41 Level J and has passed with flying colours! This case system has been adopted by a vast range of industries and is renowned for its durability and strength.
Manufactured in our own production facility in the UK, we believe the multiPad™ product range offers an ideal solution for the secure storage and transport of portable computer devices such as iPad, Surface and Tablets. We have been manufacturing cases for 25 years and, over the last 5 years, have developed the multiPad™ range.
We have partnered with Cambrionix who have developed the industry standard intelligent Sync and Charge protocol. We are continuing to develop our products and there are many features that have been incorporated in the current range.
Research + Development
We are constantly striving to make our products more appealing to our customers, whether it be functionality, aesthetics, durability, weight or cost-effectiveness. We are always open to customer feedback about our products and that is where most of our R&D route map stems. We are not interested in change for change sake, our goal is to develop products that offer the best solution to our customers.
Recent developments include:
Re-design Basket Solution
We were asked some years ago to supply our products with an integral basket to hold four devices. We set about producing a basket with the manufacturing processes available to us at the house but, as volumes increased it became clear that the fabricated basket design could be improved to make the production process much more streamlined. This required an investment in tooling for injection moulding and extrusion. The finished product is much improved in all respects and encapsulates the design process that we are striving for.
Before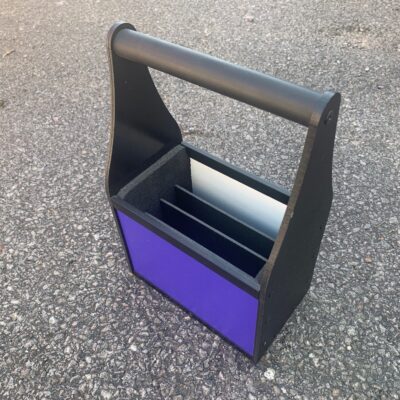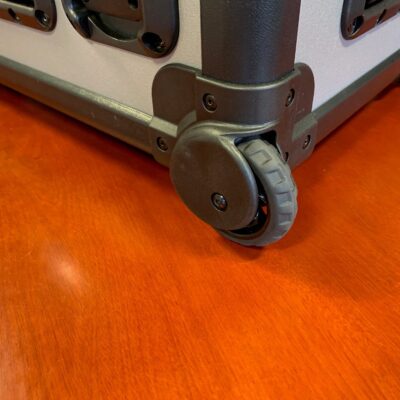 Our customers have been asking for some time for a trolley system to transport multiple USB chargeable devices. Our aim is to provide a configurable product that will allow our customers to choose what they want, in brief our design consists of three roller shutter door units with an internal 19" frame, the smallest will hold one 16 port rack charge and sync hub with dividers to support the devices, the mid size unit will hold two 16 port hubs and the largest will hold three 16 port hubs allowing 48 devices to be simultaneously charged and sync'd. This is a major project that will be completed, mid 2020.
After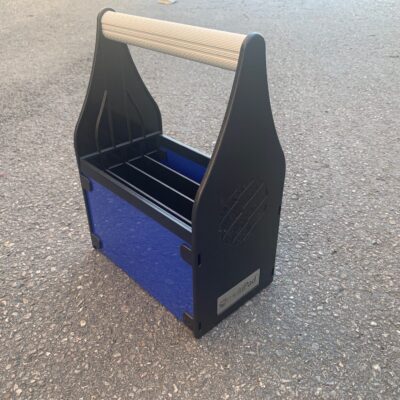 We have also recently commissioned the design of a larger more robust corner wheel and again this is as a result of customer feedback asking for a wheel that was suitable for use over rough ground.